Regular price
€1.358,00 EUR Taxes not included
Regular price
Sale price
€1.358,00 EUR excluding VAT
Unit price
per
Sale
Sold out
Safe shipping

High Quality Service with UPS or DHL
View full details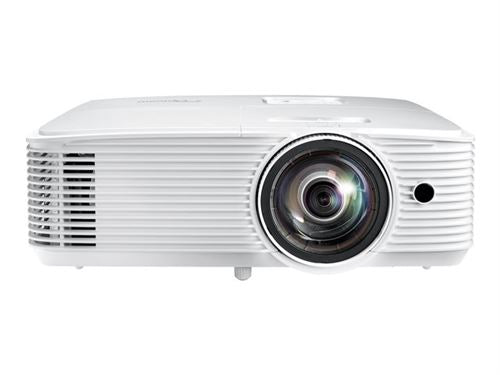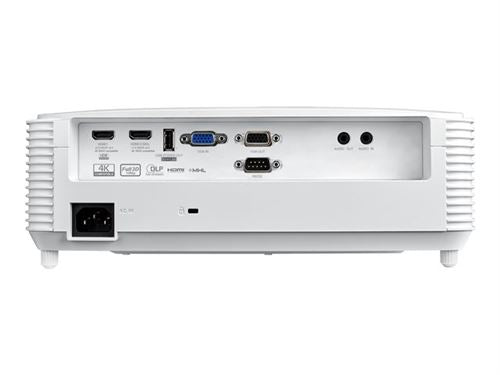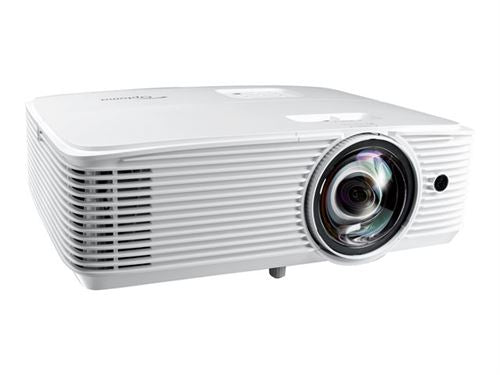 Short-throw, bright and compact projector
Project bright content with ease with the EH412ST Full HD 1080p projector. This short-throw projector has been designed for use in professional or school environments: it offers bright image projection and has a longer lamp life. In addition, energy saving features are available to help you keep maintenance cost to a minimum.
The EH412ST is equipped with multiple inputs, USB Power and a built-in speaker for easier installation: perfect for connecting a PC or Blu-ray player to project clear images with associated sound. You can also connect an HDMI dongle, such as Optoma's UHDCast Pro for wireless presentations.
Portable and lightweight, this EH412ST projector can be set up or used on the go for offsite meetings with its carrying case (sold separately).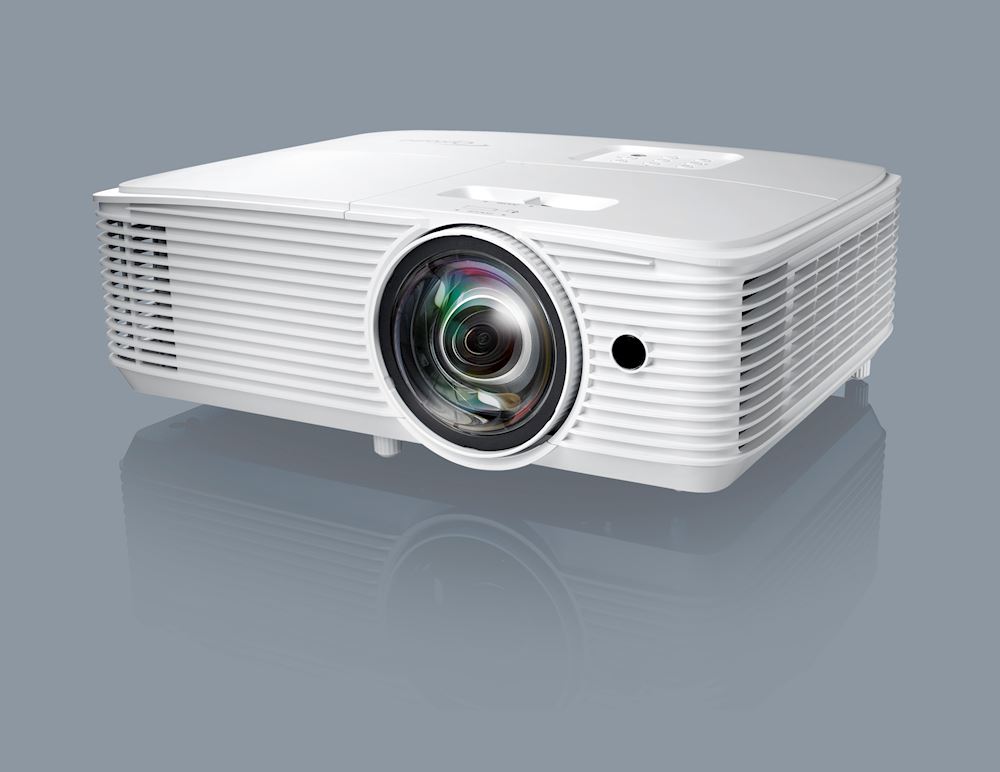 Full HD 1080p projector – 4000 ANSI lumens
Short throw – A 100" image from one meter away
Connexion facile – HDMI, VGA, USB Power
Clear and powerful audio - 10W speaker

Amazing Colours
Deliver captivating, colorful presentations and lessons. Optoma projectors give you reliable color matching for any content and environment: accurate sRGB colors for true-to-life images. A display mode is also available to meet all needs. An ideal feature for projecting graphics or videos.
 
Full HD 1080p
1080p resolution gives you crisp, detailed images from HD content without downscaling or compression, perfect for watching Blu-rays, streaming HD videos and playing games.
 
Compatible HDR
Capable of receiving and displaying HDR metadata, HDR-enabled Optoma projectors allow you to see much more detail and texture. Objects appear more solid and realistic. All these details provide exceptional image depth.
High contrast
Add more depth to your image with a high-contrast projector. Compared to competitors' technology, Optoma DLP projectors deliver brighter whites and ultra-deep blacks, images are even truer and text comes out crisp and clear. Ideal for school and professional applications.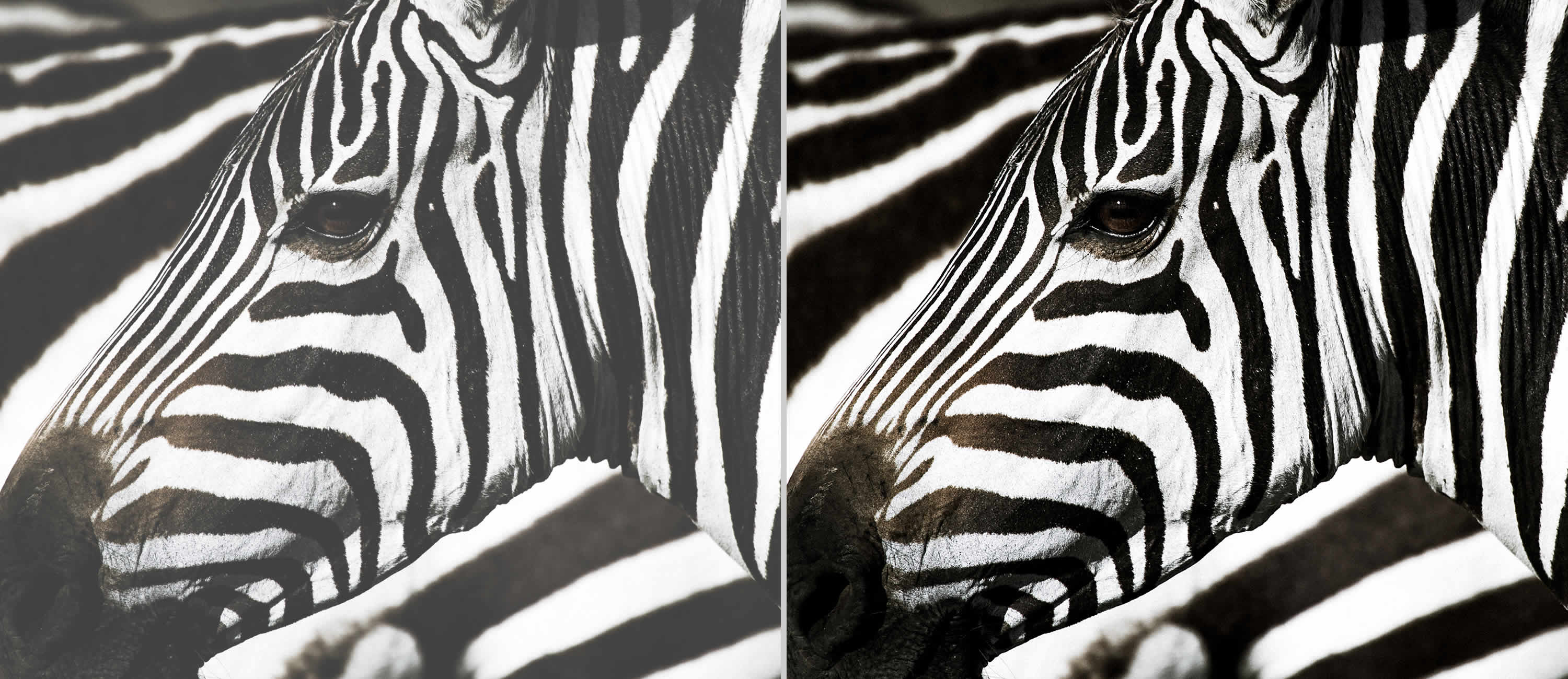 Full 3D
Optoma projectors can stream true 3D content from most 3D sources: including Blu-ray players, 3D TV and the latest generation game consoles.
 
MHL
Your projector becomes intelligent by connecting your smartphone or tablet with a simple cable with MHL connectivity, so you can view your presentations and documents, broadcast videos and share photos on the big screen.
 
Built-in speaker
The built-in speaker provides exceptional sound quality and is easy to set up. There is no longer any need to invest in expensive external speakers.
Mouse function and Laser pointer
Draw your audience's attention to what matters with the laser pointer and mouse function.
 
Eco+
Eco+ technology provides high contrast, also improves lamp life and saves energy while reducing power consumption.
Energy savings
Thanks to the different lamp modes, you can reduce power consumption by up to 70%. Each mode also has a positive effect on lamp life while reducing the cost of operation and maintenance.
Quick restart
This feature allows the projector to be instantly powered up again if it has been turned off by accident.
Image masking
Stay in control of your presentations with Eco AV mute. Direct your audience's attention away from the screen by blanking the image when it's no longer needed. This instantly reduces energy consumption by 70% and extends the life of your lamp.
Instant start
The projector will start instantly when powered on. Thus, there is no longer any need to manually turn on the projector via the remote control or keypad. A useful feature in rooms where a main switch is present.
Quick stop
You can turn off your projector immediately. You don't have to wait for the projector to cool down before turning it off.
 
Automatic Shutdown
Sometimes a projector is left running when not in use. To save energy, when a projector is left on and no source is detected, the "Auto Power Off" feature automatically turns off the projector after a set period of time.
  
USB-Power
Use the USB-A port to power an HDMI dongle, such as the Google Chromecast.
 
Continuous operation (24/7)
Optoma projectors have been designed to operate 24 hours a day in standard orientation. Perfect for installations where extended use is required. Subject to the following conditions.
24/7 operation - Standard lamp warranty applies. The projector warranty is based on standard usage. For optimal performance, Optoma recommends turning your projector off or putting it into standby for 30 minutes every 24 hours to extend lamp life.
Add a Hitting Mat

The Premium hitting mat has a long dense fibre system which absorbs anddissipates the blow delivered by a golf swing like natural turf.

From a premium feel and experience.

Learn More

Customize your enclosure

A range of accessories available to customise your enclosure

Learn more

A question ?

Our team is ready to answer your questions. Please do not hesitate to contact us.

Contact us